We added a few new features to our website this week which we are hoping will help you, your family, friends and colleagues spread the word on Wishbone Day (We're ANOTHER month closer!!! Can you believe it?!)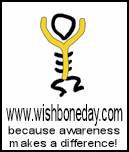 Or maybe you'd prefer a headline animator button. This tricky little button will display as a button on your webpage the latest news on Wishbone Day. Grab the code by clicking the link under the button. You can add this anywhere you can include html code.
We dont want you to miss a thing! You can now subscribe to Wishbone Day and get updates delivered straight to your inbox. Enter your email address and click subscribe in the subscribers tab on the right hand side of any page on this website.